Capitol Cider - Seattle. Four Bloody Marys and a Side of French Toast.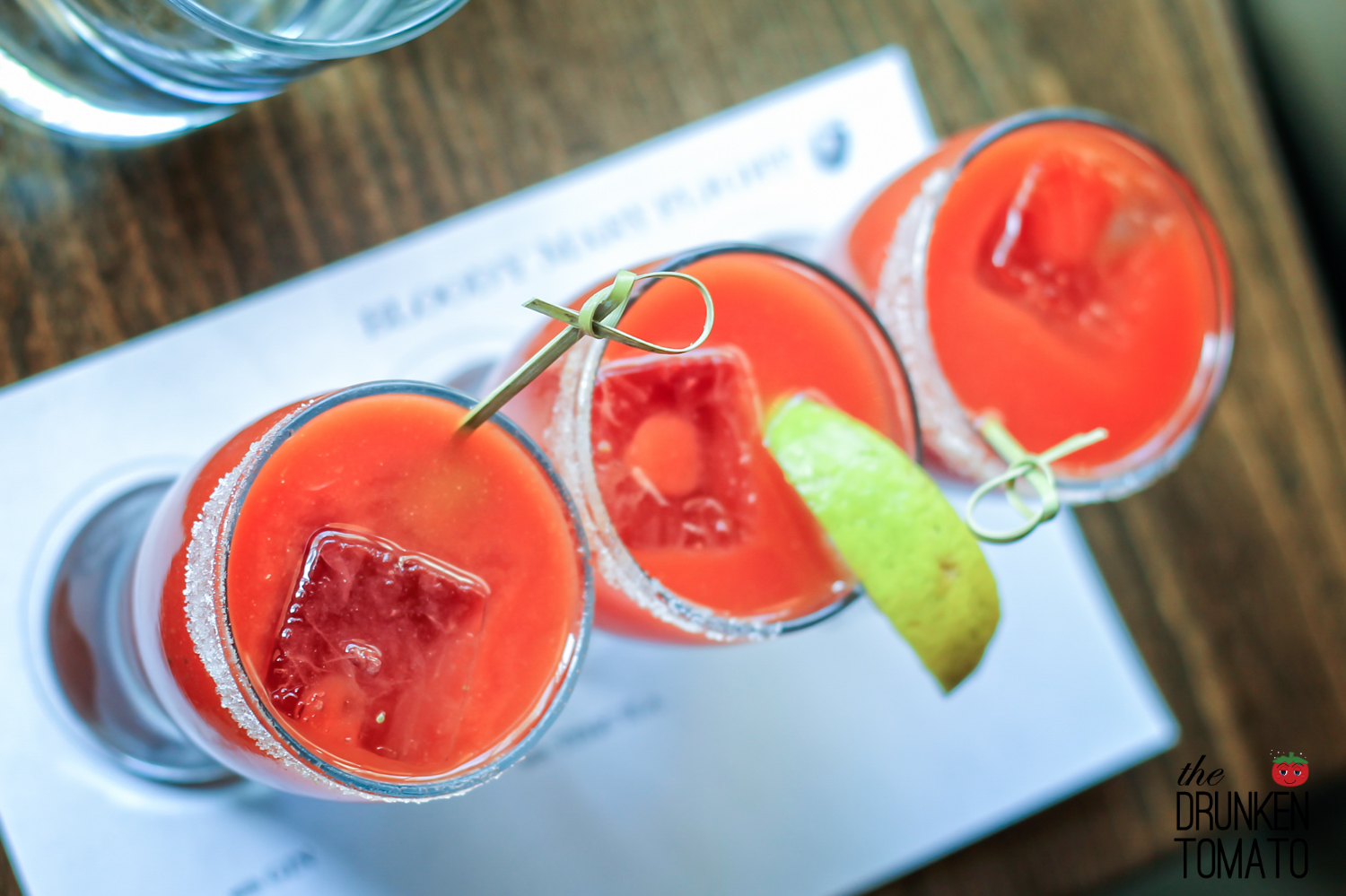 I don't do gluten free.  In fact, I actively seek out so much gluten that I have an Amazon subscription to deliver 5 lb packs of the stuff.  Personally, unless you're actually Celiac, I just don't get it.  But I do respect each person's personal choice, and, as a vegetarian, I do understand the challenges of having dietary restrictions.  Also, my dog is gluten-free.  So, there's that. Capitol Cider is a super hip Seattle restaurant that caters to the gluten-free through the peddling of grain-free apps, entrees and hooch.  As the name suggests, you can sample from a ridiculously long list of boozy ciders.  But I know you're not here for apples, so you, my friend, have two choices.
Bloody Mary Choices
Choice #1: Get the $10 Bloody Mary with Oola Rosemary Vodka, pickled carrot and celery. Choice #2: Get the $12 Bloody Mary Flight with Tequila, Mezcal & Gin. I suppose there is also a third option. Go Drunken Tomato style and convince your brunch buddy to split all four!
The Rosemary Bloody Mary
First, let me just point out the celery here.  Seriously, if you're expecting that standard celery stalk in your bloody mary, be prepared to be disappointed at the vast majority of Seattle bars.  But thankfully, Capitol Cider knows their shit.  Not only will you get a celery stalk, but you'll also get a lemon, lime, olive, other assorted pickled veg and a beautifully salted rim.  Cap Hill's Oola Vodka provides a distinct, but not overpowering, rosemary essence, and a hint of heat and black pepper round out this very smooth mix.  Acidity balances perfectly with a tongue-tingling saltiness, and just a bit of horseradish casually enhances your sense of smell.  If you like your bloody marys smooth, balanced and classic, Capitol Cider's Rosemary Bloody Mary will fulfill all your boozy brunch needs.
The Bloody Mary Flight
Okay.  I have to admit something outright here.  I'm not actually the biggest fan of putting anything other than vodka in my bloody mary.  I get it.  It's fun.  It's different.  It almost (almost) turns the drink into a whole new cocktail.  But damn it, I just don't like it.  So the best I can do here is give you an accurate description.
When you order the flight, you get three small glasses, each served on a place card designating which kind of booze was used.   Just think beer flight, and you've got the idea.  The gin provides complexity and herbaceousness, the tequila, well, tastes like tequila and bloody mary mix, and the mezcal provides a strong smokiness.  In my personal opinion, the gin was the most balanced, followed by the mezcal and finally, the tequila.  Again, take this all with a grain of celery salt.
If you're into gin, tequila or mezcal in your bloody mary, GO TO CAPITOL CIDER!  If you're not, still go to Capitol Cider, but order the regular bloody mary.
4 Celery Stalks
Post Script: If your gluten-free sweet tooth is a craving a toothache, get the Banana Bread French Toast.  It's super sugary but amazingly delicious.  And it comes with a side of maple butter! Nom nom nom...
Capitol Cider 818 E Pike St, Seattle, WA 98122 Phone:(206) 397-3564
[wpgmza id="95"]
***I received one or more of the products or services mentioned above for free in the hope that I would mention it on my blog. Regardless, I only recommend products or services I use personally and believe will be good for my readers. I am disclosing this in accordance with the Federal Trade Commission's 16 CFR, Part 255: "Guides Concerning the Use of Endorsements and Testimonials in Advertising."***